Alright, I'm on the left.


That was me in March 2006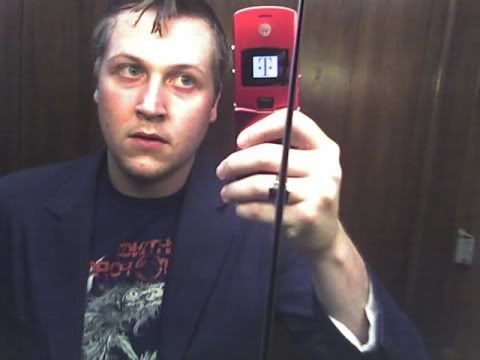 Thats me in July 2007.
I lost 69lbs on my own. No system, no excercise, no pills, no tapes, no electro shock belts. Let me tell you how I did it. I changed what I ate.
I completely cut out sodas. I drank water, and occasionally fruit juice.
No Cheese. No mayo.
No fried foods.
I ate turkey and bread, and pasta.
I quit drinking alchohol.
I reduced my sodium intake.
I ate small meals every 3 hours to speed up my metabolism.
I did all this because when I was 24 my blood pressure was a little high. I ate badly, and drank plenty of beer. So I got scared. I changed my ways immediately and started losing the weight. My blood pressure has been normal ever since. Go figure.
I went from 274lbs to 205lbs in a pretty short period of time (I'm tall too 6'4).
So before you guy buy some energy bars, or a belt that shocks you, or pills or any of that crap. Try doing it yourself. Its cheaper, its more fun, and you feel good about yourself.
Get yourself some scales and weigh yourself EVERY day. Drink plenty of water and be positive. TELL everyone what you're doing. It will help you stay motivated.
I currently weight about 223lbs so I'm changing back to a healthier diet. I attribute my weight gain to my office job and my wife's great cooking! Thanks for listening and please feel free to comment!
NOTE: This is not sound medical advice by the way. I do recommend you consult a physician before drastically changing your diet. Just because I did it, does NOT mean you should.