HAHAHAHAHAHAHAHAHAHAHAHAHA. Glad I got that out of the way. Take it from me I am very experienced in this area. I bet you're wondering, who is this guy, and what does he do? Well I'll tell you. My name is Jason. I'm 26 years old. I am an Account Executive for Cavalier Business Communications. I am also "SGM Captain Jack" a game master on a popular Ultima Online Player run shard called UOGamers: Hybrid.
I have done everything you could imagine. Toured as a musician, Car Salesman, Manager of a musical instrument store, Restaurant Manager, Pizza Boy, Real Estate, Parts Boy, I worked for NASA, I worked on a brickyard, I drove a forklift, I drove a box truck, I filled vending machines, I HAVE DONE EVERY JOB YOU CAN HAVE! But the one I wanted to succeed at the most, was musician.
Refer to the title of this blog. Don't ever ever ever waste your time touring in a band part time. You either gotta be 100% or 0% there is no in between. I learned the hard way that you can lose your ass on tour. And I was pretty dedicated. I booked the tour. I set everything up. I made all the right moves. We played with tons of great bands: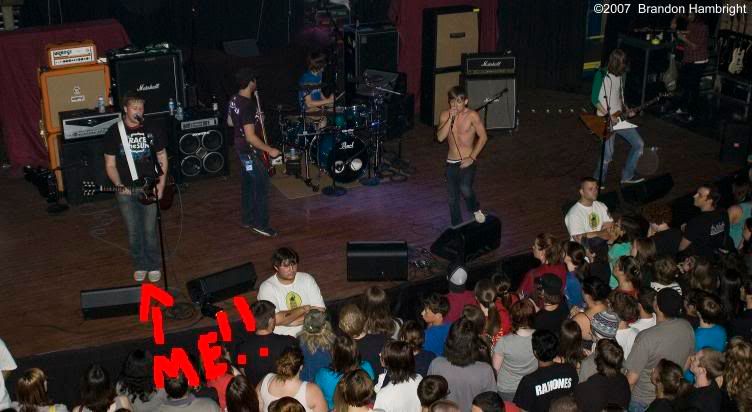 Yeah, thats me playing with Senses Fail.
I've played with CKY, Senses Fail, From Autumn to Ashes, All Time Low, and in my earlier metal bands I played with Breaking Benjamin, Taproot, Seether, Nonpoint, Sevendust, and every other crappy nu metal band that came through my town.
I'm not really sure why I'm writing about this, but this is my blog damnit. I can do what I want. I guess its safe to say I'm getting off track. OH WAIT! My advice to musicians….. Learn a skill. Fall back on that when you're home. Have fun when you can because reality catches up with you fast. And no matter how good you think you are, there is always someone better………
I am a negative guy.