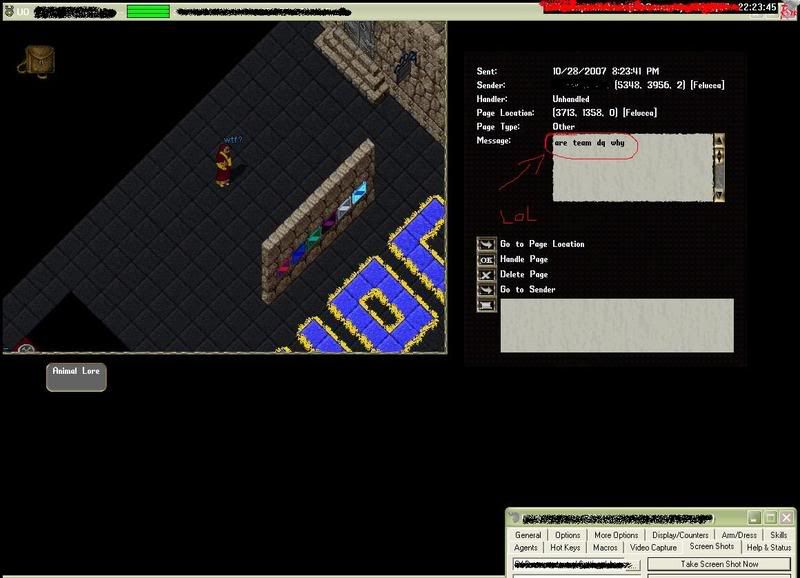 Yeah, thats real. Thats a real thing that someone sent in. I answer typically 50 pages a day. Of those 50 pages anywhere from 10-15 of them are indecipherable. People who speak English as a first language are sending in pages such as "how i do it?" or "when event next" or my personal favorite "he baned me from formz!". People don't realize that we don't handle forum issues through the page queue. People don't realize lots of things.
BUT, if you wanna know what its like to be a game master, let me tell you. Its fun. See, my story goes like this. I was hired during open hiring on December 17th 2005. I filled out an application, interviewed, and was hired as a counselor. I WAS SO EXCITED.
Now I can't get into great detail because we are not supposed to divulge too much information and I have always been respectful of that fact. But as you can imagine its pretty basic. Just follow the rules, be helpful and it will be just as rewarding for you as it is for the UOG community. It takes a special breed of person to handle the amount of responsibility laid upon your lap when you join the team. I've seen more people come and go in the 2 years I've been here than I would have liked to. Because you form good friendships and bonds with people you work so closely with.
Back on track: I was promoted to Game Master about 3 months after I was hired. And I've been loving it ever since. I'm passionate about it because I lost my love for playing UO. Banksitting is boring. PVP is boring. But helping other people with their problems, working out bugs and exploits, teaching newbies the ropes is very rewarding for me.
In the future this section will have funny pages I get. Guides to help new players. I will answer questions here and on my forum.